Svec & Svec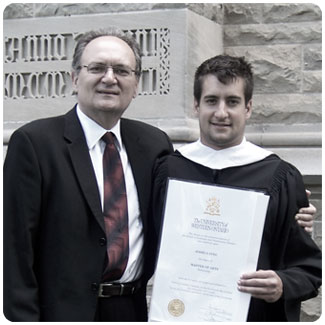 DR. HENRY SVEC is a registered psychologist in the Province of Ontario, and licensed psychologist in the State of Michigan. He received his Ph.D. from Michigan State University, and his B.A., B. Ed. and M.Ed. from the University of Western Ontario where he played football for four years and won two National Championships.
Henry is married, with three children. He enjoys fishing and skiing. The Dr. Svec Institute of Psychological Services has offices in London, Windsor, Chatham and Sarnia. The Institute is available to help adults, children and couples of all ages.
JOSHUA SVEC received his honours B.A. from the University of Waterloo in 2009 where he also played varsity football. In 2008, Joshua set the school record for the most yards by a receiver in any one season, was second in the country in receiving, and named as an OUA all star wide receiver. In 2011, he received his M.A. in coaching from the University of Western Ontario.
Diagnosed with ADHD at an early age, Joshua was able to overcome many obstacles to achieve his goals. Joshua is a partner and research and marketing strategist for Etrack Inc. He specializes in ADHD coaching for students and student athletes. He enjoys surfing, travelling and fitness training.